About NJVBC
North Jersey Volleyball Club was founded in 2004 as an alternative to the club experience. Our goal is to give boys and girls in the north New Jersey area a cost-effective opportunity to travel within the GEVA region and play the game competitively. We are dedicated to building a strong foundation for our players – not only within the sport of volleyball, but also guide our players down the path of teamwork, sportsmanship, and integrity.
We're back for the 2021-2022 Club Season!
We are happy to announce we are back!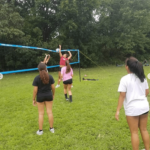 Previous
Next
About Us
North Jersey Volleyball Club's mission is clear: provide parents in the North New Jersey area an affordable way to not only introduce their kids to volleyball, but work on the fundamentals of the game. Our coaches will not only teach them how to play, but emphasize the importance of teamwork, sportsmanship, and communication along the way.
SERVICING NEW JERSEY AND NEW YORK
We have had student-athletes from Nutley, Clifton, Montclair, Bloomfield, Belleville, Wayne, Totowa, Passaic, Paterson, River Dell, Tenafly, Ridgewood, and Westwood, to name a few. We've also had students from regional and private high schools, including Lakeland, Passaic Valley, DePaul, Paramus Catholic, IHA, MKA and the Academy of Holy Angels.
We offer:
Travel Teams
Practice Only
Three Reasons To Join NJVBC
Affordability
Parents, we are the only travelling volleyball club under $1000 in the tri-state area. We also offer fundraisers to help offset the cost.
Learn the Fundamentals
Our coaches are IMPACT certified and trained through Gold Medal Squared and The Art of Coaching Volleyball. Our coaches also have high school experience, winning multiple league and county championships.
Multi-Sport Athletes
With only one practice a week, we are the perfect club for the student-athlete that plays winter and spring sports.
Practice Facility
Nutley Abundant Life Center
390 Washington Ave, Nutley, NJ 07110